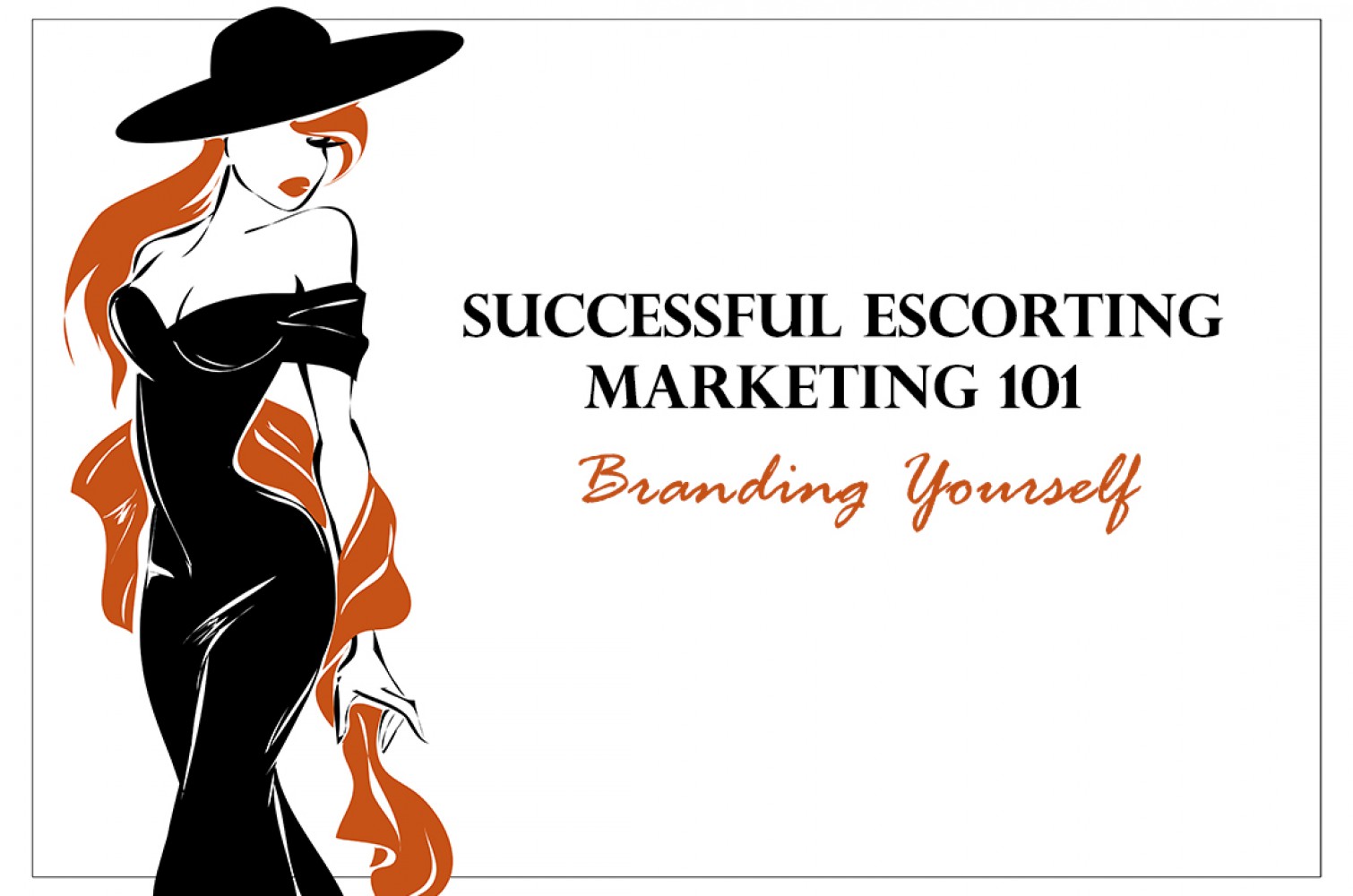 In our last post we gave you the scoop on "How to Become an Escort" and in today's post, we are going to give you marketing tips and suggestions on how to market yourself so you can become a successful escort.
REMEMBER YOU ARE A BRAND
No matter if you're a full time escort, a part time escort, or casual escort, you No matter if you're a full time escort, a part time escort, or casual escort, you are a brand. Just like Apple markets itself from Windows, you have to market yourself (your brand) from your competitors (every other escort).
Brand? We know you may be asking yourself what do we mean by that? The best example we have in the adult world is porn genres. Look at all the various genres of porn that is out there. The list goes on and on and on. And we do mean on and on. Each genre of course caters to a specific clientele. You will of course have crossover clientele but the focus of a specific genre doesn't necessary drive their marketing towards that potential crossover client. This should be the same for you. For this post we are going to focus on nine escort brands and how to market your brand.
Young Escort
If you look as if you're between the ages of 18 to 25, then this could easily be a branding option for you. You are going to target clientele that want someone who is young, youthful, and beautiful. You are going to present yourself as that stereotypical young "it girl". You're draped in the sexiest and hottest lingerie. Think Victoria's Secret Angel. You're the girl that's about to dominate the world, but only after you've had your coffee and shopped the hottest store. Of course there are going to be sub genres to this brand (as there will be in all brands). Are you young and a "gaming geek" looking to be the perfect "gaming girlfriend" for a gentleman? Are you the young and femme fatale looking to be on the side arm of a suave and sophisticated man? Are you the young, fresh faced ingénue who is sweet and innocent and looking for a lover who will make her world blossom? Whatever brand you choose, don't half ass it. Commit and start selling yourself as that.
MILF/Cougar Escort
If you don't know what a MILF is, you have obviously been living under a rock in the middle of the Antarctic. MILF means "mom I'd like to fuck". A cougar is an older woman who seeks the companionship of younger men. She's not like the young escort. She is experienced in the art of seduction, knows what pleases her, and knows how to please a man. She is confident, elegant, classy and knows how to show off her curves with lingerie that is the epitome of classic beauty. Being a MILF/cougar escort doesn't mean you're old. Everyone knows of that one mom that all the boys had a crush on. You could be the hot soccer mom seducing dads on the playground, the sexy college professor punishing her student for showing up late to class or even the professional high powered business woman who loves to blow off steam by seducing her competitors. If this is your chosen brand, you are not going to rock that outfit from Forever 21 but you're not going to dress like the Queen of England either.
High Class/Elite Escort
This brand means exactly what you think it means. You know the drop dead gorgeous Bond girl, dripping in diamonds the size of Australia, and in a dress created from silk and lace of the most unattainable fashion designer. She is the definition of "out of your league" and someone you would never see climbing out of a Toyota but being chauffeured around in that double stretch, black tinted, limousine. You are the epitome of red carpet realness. You want to be seen as one of those timeless and classic beauties of Hollywood. The iconic looks of old Hollywood from Audrey Hepburn, Marilyn Monroe, Elizabeth Taylor, Grace Kelly, Sophia Lauren, new Hollywood from Kate Blanchett, Kerry Washington and the niche iconic looks of Tilda Swinton. You are the gal that owns and wears the Fantasy Bra from Victoria's Secret on a Tuesday because you feel like it.
Trashy/Crass Escort
By this we do not mean someone who just rolled out of bed looking as if she's partied too hard seven nights in a row. What we mean here is that you're the girl whose photo might be a little more revealing. Your photo shows the goods upfront versus being wrapped in sexy lingerie. You are the escort that is bold, honest, and brazen. You're not afraid to advertise that you love giving rimming, giving blow jobs, love anal, and getting creamed in the face. You are the opposite end of coy, indiscreet with your words, and don't beat around the bush when it comes to what you want to give and what you expect in return. You come across as a "massive slut, here's my pussy, are you in or are you out" and yes, there are escorts that present themselves this way. They are shameless and have a no holds barred attitude that sells their brand.
Transsexual Escort
If you are a transsexual escort, there is no need to hide the fact that you are. Be real. Stay true to who you are. There is clientele that seek and want what you have to offer. If you're a "Thai Lady Boy", a sex kitten with a 10 inch dick, or a post op female, you can be honest. Your clientele is looking for something only you can provide. What is wonderful about being a transsexual escort is that your brand is not only being transsexual, but you can be a young transsexual escort, a cougar transsexual escort, a high class transsexual escort, a crass transsexual escort, an ethic transsexual escort, or a BDSM transsexual escort. Your client is experiencing two brands at once and you're giving them the best of both worlds!
BDSM Escort
For a BDSM escort, what we're mainly speaking about here is being a dominatrix or mistress and not fetishes. If you are the queen of the dungeon and want clientele who want to be spanked, hogtied, and reduced to quivering messes in the palm of your hand, define yourself as that. What you provide is something no one else can provide. Your knowledge of kinky and the way you handle a whip, paddle, or electro stimuli will set you apart from so called "vanilla escorts" who are not into anything BDSM.
Ethnic Escort
We list ethnicity as an escort brand because you can Google Asian brothels and have your choice of Thai, Chinese, Japanese, and more. Being an ethnic escort is more than being Asian though. You may be an exotic Middle Eastern beauty, a fair skinned Scandinavian snow bunny, an African goddess sent from above, or a petite Russian ballerina dressed in pink. Whatever your ethnicity is, play it up and make it one of your best assets. Your clientele is seeking only what your DNA has. It's part of your heritage and only you have it.
Male Escort
Most people assume male escorts are gay, but they are often wrong. The male escort can be straight, bisexual, gay, or a plethora of other sexual orientations. Male escorts, just like women, have the choice of branding themselves as a young escort, a cougar, high class, crass, BDSM escort, you name it. You may choose to be the dashing rebel like James Dean (actor not porn star), the nerdy young boy next door, the experienced older gentleman, the crass talking man like Andrew Dice Clay, or the Master of the BDSM fun. Whatever you choose, own it.
Specialty Escorts
Specialty escorts can be an array of things. If you're a former porn star and offering your clients a chance to live out their porn desires, say so. Maybe you're a current or former model that's walked the runways of Paris, Milan, and New York, share it. Besides the former two, other specialities can include providing sex and companionship to those that have special needs like a wheel chair. That is the second most asked question we receive. If you cater to a certain clientele, say it. If you don't, your speciality client may just assume you are not what they're looking for.
There are of course so many more "brands" of escorts. You can be as general or specific as you want to be, but remember YOU ARE A BRAND. There are clients looking for what only you offer. Figure out what brand you want to be and be it. Be it with confidence. Believe in it and clients will believe it.
Next week: Successful Escorting: Marketing 101 – Photograpy
Previous: How to Be An Escort