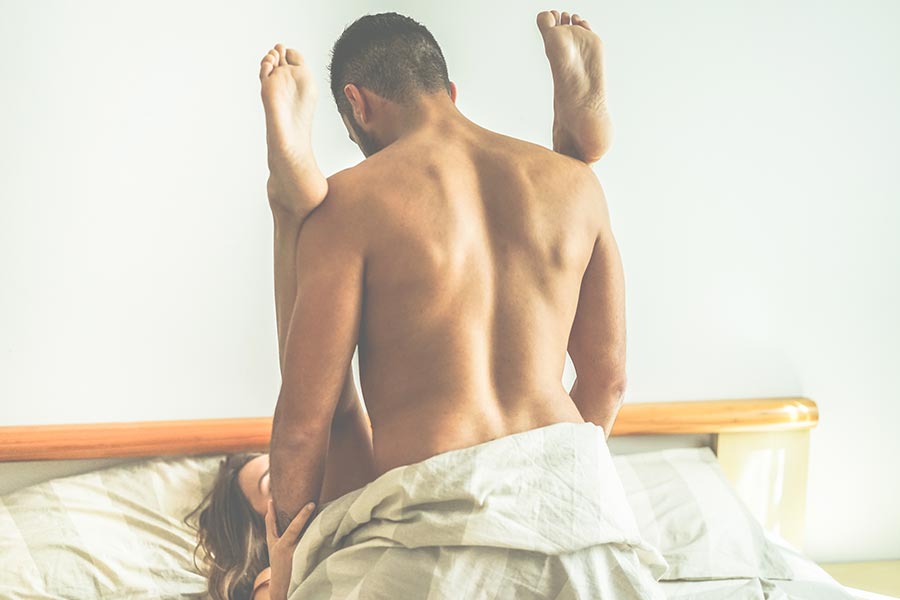 A healthy sex life is the spice of life. However, many of us tend to enjoy the same positions most of the time, which could leave us feeling somewhat vanilla. That doesn't mean that many of us haven't thought about adding a few things to our routine.
One of the more notable things you could try is various sex positions. While this might seem simple, there can be many more of them that you may be aware of. This could mean that some of us might not know where to start.
However, there are a few sex positions that you could try. With New Year's Eve just around the corner, you could make it your resolution to try a few new sex positions in 2020. There are ten that could offer quite a lot of fun.
Spooning
Winter is in full swing, with many of us staying wrapped up to withstand the cold. However, you don't need to let that get in the way of your sex life. Instead, spooning can be an intimate way of enjoying each other's body while staying warm.
Spooning also doesn't require much work, as it simply involves you and your partner lying back to front. The partner with the dildo or penis should then be able to penetrate their partner. Alongside this, either of you should be able to stimulate the clitoris.
Seated Oral
When was the last time that you and your partner were engaged in seated oral? There could be a large chance that it's been a while, if you've engaged in it at all. This could be something that you might want to rectify in the new year, as this could be much more enjoyable than you might think.
Naturally, you'll need to decide which one of you is giving and which one is receiving. However, you'll be able to switch this up to make sure that you both enjoy yourselves.
Missionary With A Pillow
When most of us hear 'missionary,' we typically associate it with somewhat vanilla sex. However, there are a few variations on this that you might be interested in. Adding a pillow into the equation could add somewhat of a nice touch to the position.
To take advantage of this, the woman lays on her back like a typical missionary position. However, she should have a pillow under her hips before her partner penetrates her from slightly above.
Sofa Straddle
With winter being in full swing, there's a large chance you could be spending much of your time indoors. Alongside that, you're probably putting your sofa to good use. Why not put some more use into it and try the sofa straddle?
This is relatively simple, as it involves the woman straddling her partner while he's sitting on the sofa. Add in some extra entertainment, and you've got yourself some Netflix and chill.
Reverse Cowgirl
Cowgirl has been a popular option for quite a significant amount of time. Much of this has been driven by how amazing it can feel. However, you should also notice that the reverse cowgirl boasts just as much enjoyment, if not more. It doesn't take any extra effort, so what's stopping you?
X Marks The Spot
This is one of the slightly wilder sex positions for 2020. The woman should lie on her back on a table or some other appropriately high surface. Then, her partner should raise her legs so that they're straight up before crossing them at the ankles or knees and then penetrating her. This is quite a recommended option for anyone with a smaller penis.
Weak In The Knees
This is could also be called face-sitting, as this is almost exactly what it is. Naturally, you'll need to decide who's giving and receiving, although you'll be able to switch it around. This could be much more enjoyable than how oral is typically done, making it well recommended.
Advanced Crab Walk
Everyone tried to walk like a crab at one point or another when they were a child. You could turn this into a sex position by having both partners get into the crab walk position. Then, the woman should gently lower herself onto her partners penis or dildo. After this, you can either move up and down or gyrate.
Legs Up Missionary
Missionary can often be a misunderstood sex position. One the one hand, everybody's done it. On the other, there are several variants that you mightn't have tried. Why not have the receiving partner's legs rest on the giver's shoulders for a bit of added enjoyment?
Standing
Having sex while standing up could be much more enjoyable than you might have thought. To try this, the female partner will have to spread her legs to allow the person with the dildo or penis to penetrate them. While you'll have to navigate around the height difference, this could still be enjoyable.
There's quite a large number of sex positions that you could try in 2020, with the above being some of the more prominent. What's stopping you and your partner from adding a little bit more flavor to the bedroom? If you've tried all of the above, then you could pick up the Karma Sutra and try out a few more.
While some of them might need a little bit of extra flexibility, they could be well worth trying. With the volume of them to choose from, you should be able to give a lot of them a go and find the ones that you like best.