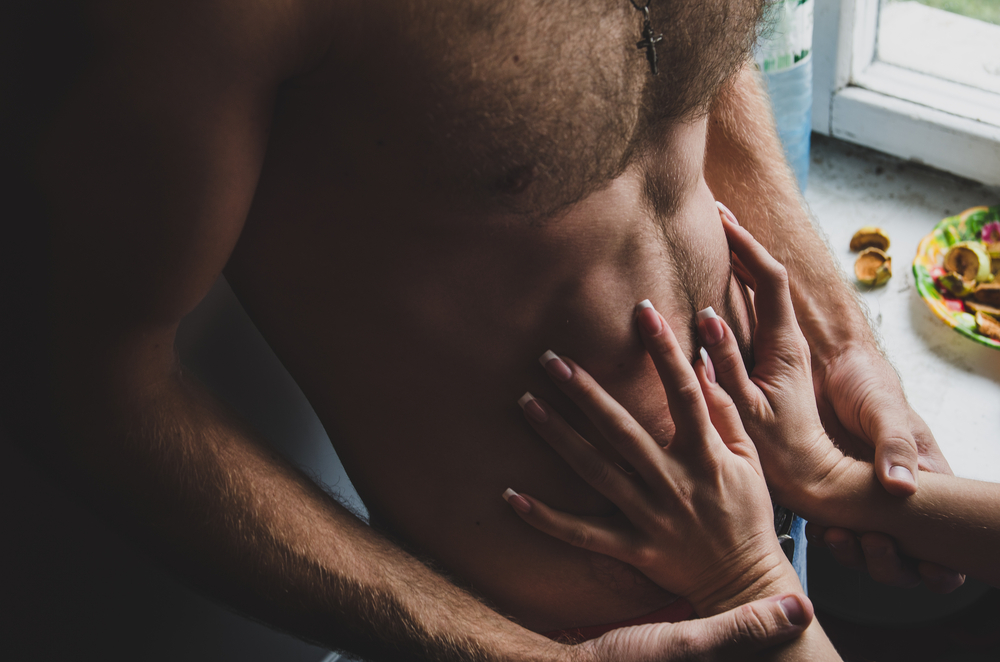 Handjobs – They're good. Well, they can be. They should be! Some people make the unfortunate mistake of thinking they're easy, and for this reason, the poor handjob gets a bad reputation. Forget the dry, often half-arsed handjobs you resort to when you're too tired for other activities; step up your game and give his member a massage that's as good as a blowjob.
Your pulling should feel a whole world better than him doing it to himself, otherwise what would be the point of you doing it? Even though you're both working toward the same end goal, the beginning and middle of the act should be a lot more thrilling than a solo session. He probably doesn't create the same amount of sexual tension with himself, or tease and trace his penis with his fingers and feel seduced at all while flying solo. Hey maybe he does, but that's unlikely. You can give him handjobs that are stand alone acts and not just foreplay or about to lead into blowjobs.
There are plenty of techniques to find the perfect handjob sequence, start by following our tips and playing a bit of mix and match to strike a balance.
Five Ways to Step up Your Handjob Game
1. Positioning
When you're looking to get your hands on him, make sure you're not too far away and that at least one – but ideally both – hands can reach his member and get a grip on it. Don't paw at it and poke it with your fingertips, move! If you're really serious, sit beside him or kneel between his legs as he lies back and from either of these spots you have courtside seats. You'll have access to balls, shaft and knob – and that's exactly what you want.
2. Start simple
While a high level of enthusiasm is good, immediately yanking his dick off is not. Don't start a handjob with your advanced technique or twist-flick-pull-push method. Start by slowly massaging his penis with one hand, smoothly moving the skin from the base up over the head - without excessive force. Take your time, and if you can feel the erection get stronger in your hand then you're off to a good start.
3. Lube and spit are your friends
It's not a given that everyone uses or masturbates with lubrication, but without knowing exactly how your dry hands feel on his dry penis (or if they feel good at all), take the cautious route by adding spit or lube to him and then massaging it around. Having things all slippery works so much better than the alternative, and helps your hands and fingers glide and slide through the more specific spine-tingling movements.
4. Use two hands / multitask
When you use both hands, the opportunities are (nearly) endless. Caress and play with balls while massaging the shaft, or use one hand to steady the penis while you use the other hand and some lube to rub the sensitive area around the knob. Unless you need a hand to balance yourself, there's really no excuse to not get them both in on the action.
5. Squeeze
Don't let it flop around as you manoeuvre, keep a firm grip and you might find you get a positive response. Some guys like a real hard vice grip but don't assume, either ask or slowly increase and keep communicating – simply asking "Is my grip too tight?" or "Do you want me to really squeeze?" will give you your answer.
Bonus tip: If you're serious, have a look at some amateur (or professional!) videos on porn websites of guys getting themselves off, you'll see how each guy has a different style and you might even notice a couple of tricks to add to your repertoire.
Now that you've heard some tried and true methods when the task is literally at hand you should feel a whole lot better about how well you're going to work it. When in doubt, there's no shame in asking for guidance. Every dick is different too, don't forget. Hopefully, you have a partner that keeps you updated on how you're progressing. Relax, lube up and massage. Every handjob has the potential to be mind-blowing, so own it!