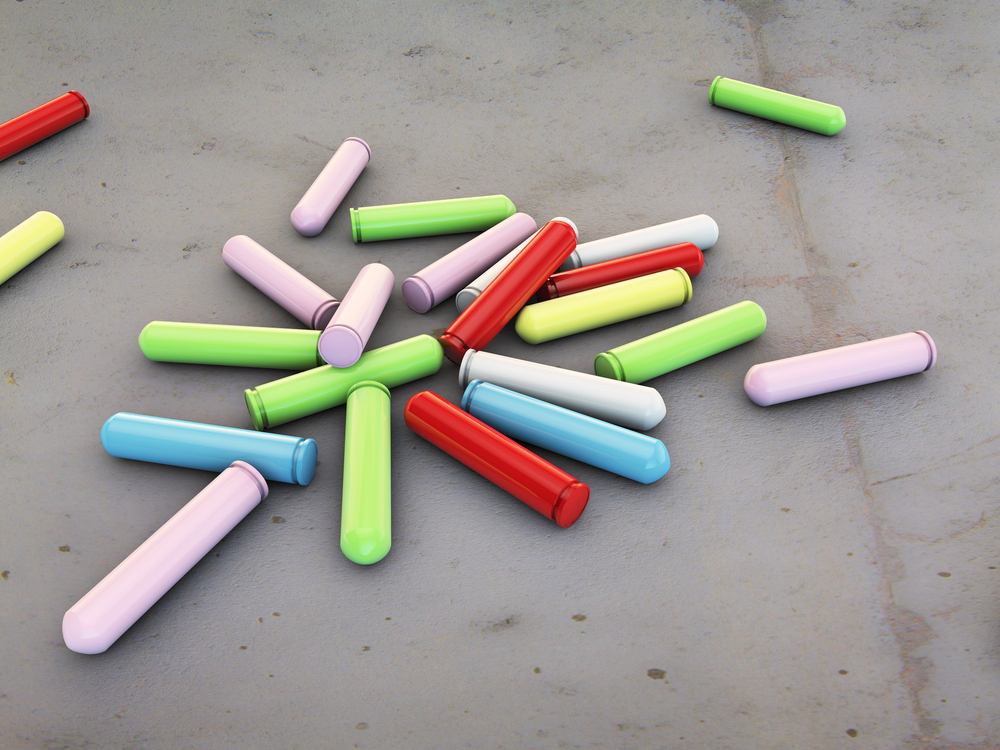 Clean sex toys are the only kind you should be using on yourself (and anyone else). Not sanitising your toys after use leaves you open to bacterial or yeast infections, and potentially sexually transmitted diseases. Sanitising your toys also contributes to their longevity. Always wash off your used dildos, vibrators and anything else that's come into contact with your bodily fluids immediately. When you're browsing for new gear, stores and online sellers will have their own versions of toy cleaner or wipes. System Jo is one company with a range of toy cleaners, including foaming cleanser, toy revitalising powder and wipes. Here's our how-to guide on how to keep your bedroom aides shiny and safe.
How to Clean Your Sex Toys
Your toys need to be cleaned differently depending on their material. Some toys are made of porous materials, while others will be non-porous. Porous materials are the ones to watch out for, as their pores take in the bad stuff and will hold onto it. Non-porous refers to things made from medical grade silicone, Pyrex glass, stainless steel, stone and wood.
Non-porous sex toys
If they're plain dildos or non-vibrating toys with no batteries or motorised parts, they can be placed in boiling water for a few minutes to become sterile. Alternatively, they can go through the dishwasher (minus the detergent) and be cleaned by the hot water. Short of doing that, using a wet cloth and some soap will work to wipe it clean. Always use a water-based lubricant when playing with a silicone toy as silicone lubes will wear at its surface. Also, if you're using condoms with your toys, buy non-lubricated condoms, or condoms with water based lubricant so as to not corrode the surface.
Porous sex toys
Toys made from Cyberskin anything claiming to be skin-like are porous. Items in the style of masturbation sleeves (like a Fleshlight), penis extenders, some strap-ons and realistic body moulds are made of Cyberskin. It can never truly be cleaned despite how hard you rub. While it is made up of a mixture of materials, one of them is silicone. This means you should still only use water based lubricants with any Cyberskin products. PVC, rubber, jelly and latex are also porous. Non-waterproof porous toys are nearly impossible to clean, but that doesn't mean you shouldn't give them a wipe down.
Vibrators
The tricky thing about cleaning a vibrator is their two parts are made of different materials. When cleaning it, you need to pay particular attention to where the two pieces join and clean in each crack and crevice. Wiping across it won't remove the build up. Open it up if you can, and wash the silicone end properly while being careful with the battery-end. Remove the batteries while the vibrator isn't in use to avoid corrosion.
Although you already knew, the significance of cleaning your sex toys can't be overstated. Even if they look clean or they were barely used, always give them a wipe down. It's particularly necessary if you're sharing toys or you've used them vaginally as well as anally (or you plan to). Low quality materials will wear down faster, which is why it always pays to purchase reputable brands. Your favourite dildo can last a lifetime with the right care. When it comes to storage, keeping them in a fabric bag or a specialty toy box will keep them out of harm's way until you need them next.