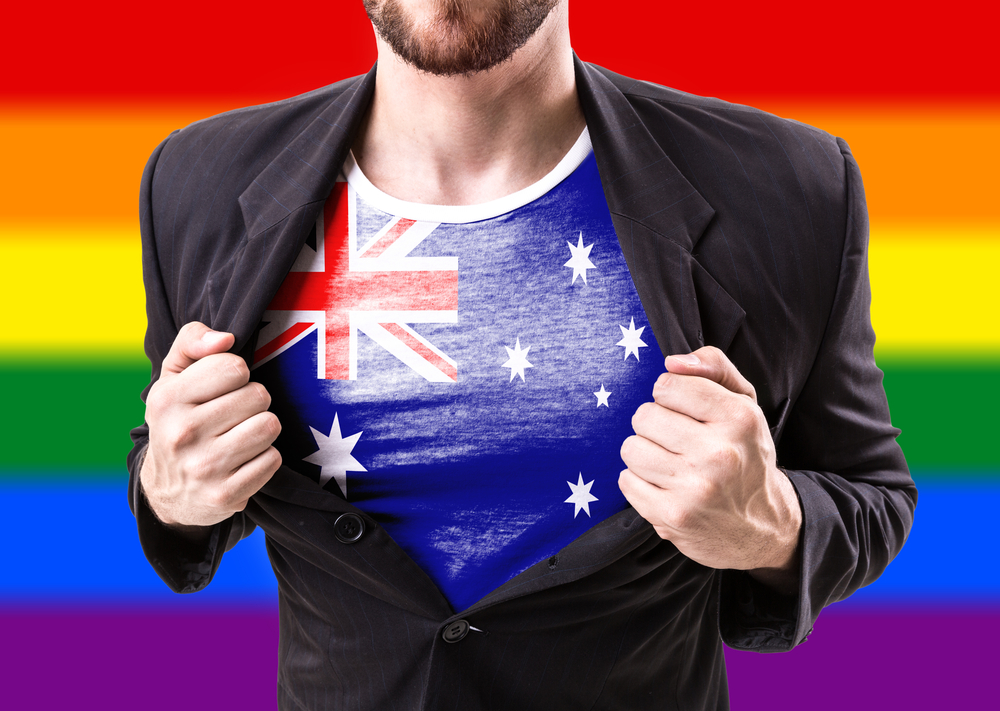 As we enter the final week of Sydney Pride Festival 2016, 10th- 30th June, it seems only fitting that the week will climax with pride before a fall, a 2016 Australian Federal Election looming large Sat 2nd July. This year's worthy Pride Festival theme "Young Heroes" celebrates the kinship of a close-knit group, a cross section of the population with a vested interest in the weekend's outcome as Equality is the buzz word in a not for profit event designed to include not exclude. A time of the year to stand shoulder to shoulder with your neighbor, your community and your family and friends.
Prime Minister Malcolm Turnbull says "There has never been a more exciting time to be an Australian". A big claim but not a wholly unpopular one. In 1961 the campaign slogan read, "Secure your Tomorrow Today", in 2007 John Howard told the Australians to "Go for Growth", in a most recent 2016 poll asked of their views on the present Turnbull slogan, 53% said they disagreed with the statement, 31% said they agreed with the sentiment and 16% didn't have a strong opinion either way. Melbourne Uni academic Sally Young suggests that it's not unexpected for a major party to start out with a red-blooded positive slogan and switch at a convenient date to a cynical message undermining the opposition core values etc. Some say a good slogan to be effective should be very short and catchy, the belief being that the more words it has the more desperate it will sound? A favourite soundbite of the democrats that has stood the test of the time; "Keep The Bastards Honest". And in 1990 Andrew Peacock's trademark line "The Answer is Liberal" rebutted beautifully by Bob Hawke with "It must have been a bloody stupid question!"
Bill Shortens' Labour appears to be taking the position that they are treating the voting public like Adults by outlining a set of policies that would in fact render the budget deficit worse off in the short term while generating significantly more favourable long-term returns. A plea for rationality that many feel will fall on deaf ears hence the endless scare campaigns flying back and forth between competing parties. The tales of Labours doomed 10-year figure forecast offset by ridicule of present negative gearing initiatives as only benefitting the few and not the wider community. Prime Minister Turnbull stresses the need for greater economic management citing Britain's shock exit from the EU as an example of how not to over react to a bumpy landscape. Hold your horses says Turnbull's Government and patience and loyalty will be met with just reward. Foreign Minister Julie Bishop will speak at length with her British counterpart Phillip Hammond on Sun night and offer re-assurance that Australia is sensitive to the political implications of the Brexit referendum results without taking sides on the points of contention.
Malcolm Turnbull took to the soap box at the weekend to address the Australian Public "Yes, the opportunities have never been greater but so is the competition, so are the uncertainties. The shockwaves in the past 48 hours from Britain's vote to exit the European Union are a sharp reminder of the volatility in the global economy" the Prime Minister declared. "Always expect the unexpected. We will need to renegotiate vital trade deals with Europe and Britain. We concluded five in the last 3 years, Japan, Korea, China, Singapore and Trans Pacific Partnership. In 6 years Labour concluded none". The Foreign Minister Julie Bishop added "What volatile times lie ahead and that is why we need a stable, mature, confident, competent government in Australia". Opinion polls place Labour and the coalition as running pretty much neck & neck heading into Saturdays showdown though the inside word whispers that Turnbull may have the critical edge albeit with marginally lesser majority share than the 2015 election.
Australia's 18-24's younger generation are making some noise this week with about 500 young Aussies participating in a national campaign to put poverty on the election agenda. Enrolment to vote for the 18-24's has grown steadily over the last three years after a state wide and timely recruitment drive was introduced. According to figures from the Australian Electoral Commission 167,456 Australians aged 18 to 24 were due to vote in June of this year. Cuts to foreign aid and a national grassroots campaign dubbed "The Stakeout" are high on the agenda with a shout out to candidates to get on board and open a dialogue en masse with everyday Australians of all ages and all persuasions."We have a responsibility to do what we can to save and to change lives" campaigner Francis Rosbrook announced. This week's young campaigners were joined by Greens candidate Kirsten Lovejoy and the Labour candidate for Brisbane Pat O'Neil. "Over the years we've seen so many cuts to the foreign aid budget that we really need to get behind programs like this," Ms Lovejoy said. "Young people know what sort of future they want to inherit and they're ready to go out and build it," said Tim Lo Surdohead of Oaktree campaigns. The pride of our nation hangs in the balance. Saturday "Election Day 2016" Bring it on!