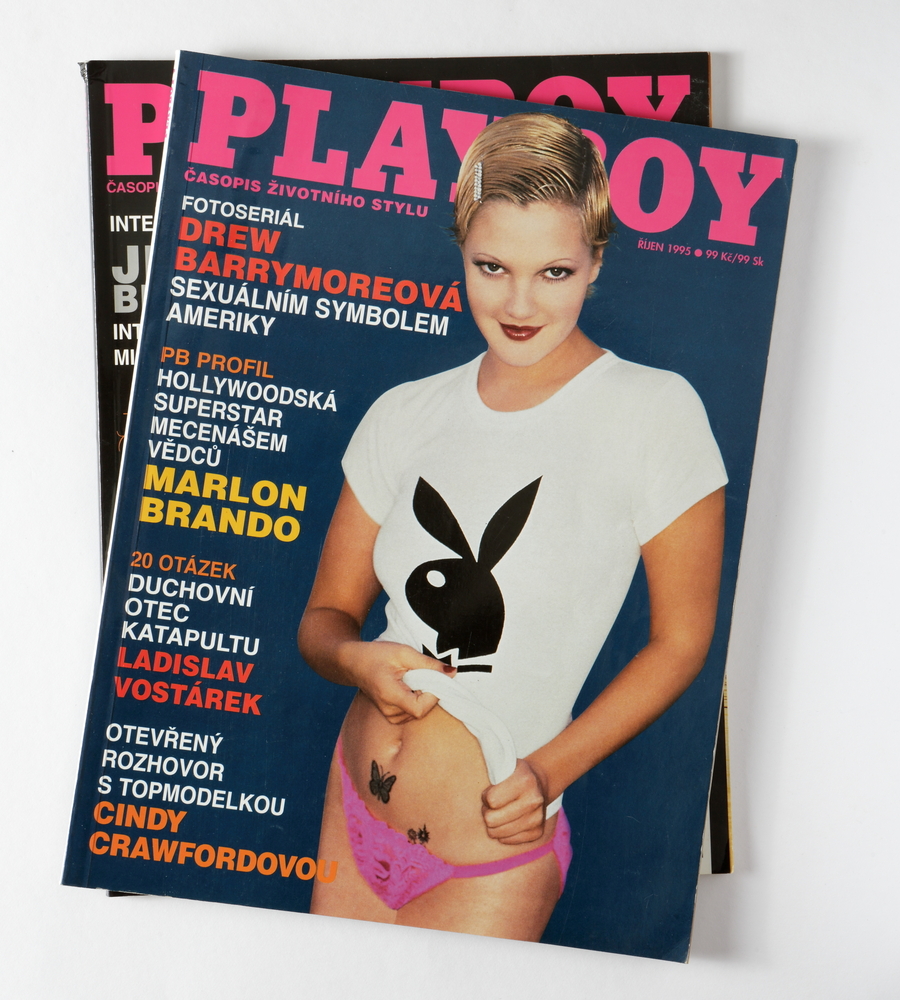 Earlier this week, long time cultural icon Playboy announced that their magazine would cease the publishing of nude photographs. That's right: Playboy, the magazine that brought us Playmates and celebrity centrefolds since 1953 are going totally safe for work. As of March next year, it really will be "just for the articles" when you get caught reading. It's making a lot of people question how sellable sex is, as a commodity in 2015. It's not working for Playboy anymore.
How the Nudity of Playboy was Unique
There's no point in denying that nudity made Playboy what it was. Controversy and success went hand in hand for Hugh Hefner. It's the early 1950's and nudity is not mainstream. Girly mags aren't prominent but Hef decides that they're what the world needs. He takes a huge leap of faith and starts something that will forever remain a part of pop culture. Naturally, Marilyn Monroe, herself a pop culture classic – appears on the first cover. Fast forward two decades later. It's 1973, and female nudity has just (deliberately) appeared on television for the first time. But Playboy has been in circulation for twenty years and boasts a circulation of 5.6 million readers.
If you've ever opened up a Playboy magazine and any of the other old-school 'nudie mags' like Penthouse or Hustler, you would have seen differences. Playboy has always been very much an article-heavy magazine. That's not to suggest it didn't sell issues for its nude centrefolds and Playmates. But it's not about spread-legs or penetration, it isn't directly associated with any porn production unlike Hustler and Penthouse. Playboy publishes nudes of models and celebrities who don't make a living from performing sex on film. That's the difference at the end of the day.
Playboy isn't quite porn, at least not as we know it today. It's not gangbangs, it's not hardcore.
In a way, tasteful flattering photos of naked women are not the norm anymore. Everything goes from extreme to extreme. It's necessary in order to stand out. There are hundreds of cam and phone sex websites, free to join no matter your experience. Porn actors, escorts and strippers actively promote themselves on social media. The internet is saturated with images and videos of nudity and new sex acts emerge faster than mosquitoes in summer.
Larry Flynt, founder and publisher of Hustler believes that going nude-free will be Playboy's downfall. "Taking nudes out of the magazine," he says, "is just going to contribute to the attrition of the magazine." But is that really why people buy it? You don't need to buy a magazine anymore to get the content. In the digital age, everything gets leaked and everything becomes free. ZOO magazine, an Australian publication with smut, stories and bikini girls recently shut up shop. At the end of the day, everything readers were finding in there could be found on here.
Flynt's point about Playboy is valid; a lot of people's immediate reactions were "well...what will the magazine have?" An ambiguous answer is; Playboy will either sink or swim as a content-driven magazine. According to The Times, the US edition of Playboy is already losing $3 million per year and only selling around 800,000 issues. That's with nude content. They removed nudity from their website last year and quadrupled online traffic – from 4 million unique visitors to 16 million. So, maybe people are sick of porn. Perhaps, people would rather keep their porn in incognito browser windows and go through their other typical interest sites without distraction.
So, where are we headed? Our society is constantly merging technologies. Our phones, even our watches can access the internet now. Finding yourself an escort is as easy as ordering a pizza. But should porn just be porn? Adult and sex industry workers are prominent users of social media to build and maintain careers. We have access to millions of individuals and their interests - from film to fetishes - are available in one place. So is the nudity necessary for a content magazine? We'll have to wait and see.
Do you think Playboy magazine will last very long without its centrefolds? Tweet @MyPlaymateau and let us know.