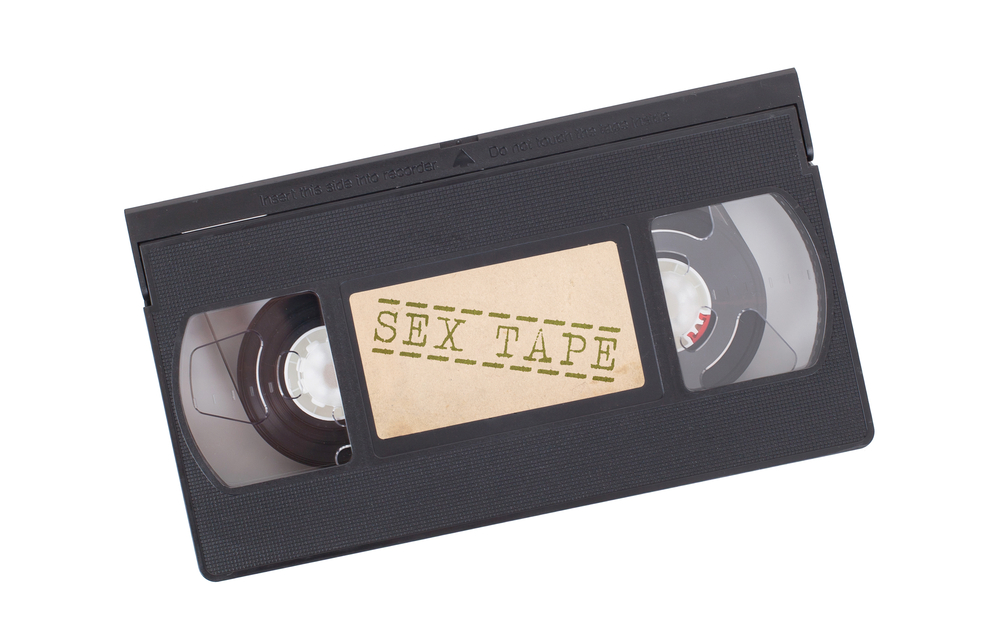 While we're waiting for the sex tape from Kylie Jenner and Tyga which is rumoured to be released any time, we're looking back at some of the most well-known home movies from our favourite celebrities. In some cases, things that have been seen cannot be unseen. They're not all losers though; we've had a look at some of the best (and worst) celebrity sex tapes, and given them a rating out of ten.
The Most Notorious Celebrity Sex Tapes
1. Pamela Anderson and Tommy Lee
This is probably the exemplary celebrity sex tape. It's the first one I can remember getting so much attention, and because this was way before streaming sites so it was hard to come by unless you paid for it. Made on their honeymoon in 1995 and later stolen from their home, Pamela Anderson has since said she never video. It definitely did nothing to hurt either of their careers; Pamela Anderson is still a sought-after babe, recently announced to be the last person to pose nude for Playboy next march.
We rate it: 5/10. Tommy Lee is well-hung, Pam is at peak hotness, and the two are in love. However, the video loses points due to the poor quality; the camera work is inconsistent and often aimed at the ocean. If only they got married in the age of the Go-Pro.
2. Kim Kardashian and Ray J
This well-known sex tape is basically the reason you know the Kardashian name at all. I mean that's if you weren't closely following the OJ Simpson trial – Robert Kardashian, father of Kim, Khloe, Kourtney and Rob – was one of his defence lawyers. Since the tape "leaked" in 2007, there have been strong implications that it was a fame-grab by Kris Jenner. It certainly worked for them, not so much for Ray J though. The video itself is actually semi-decent; Kim Kardashian is comfortable in front of the camera and looks happy to be involved.
We rate it: 7/10. Kim Kardashian gets into the action and sincerely enjoys getting it on. Good for you, Kim. Good for you.
3. Paris Hilton and Rick Salomon
The world's favourite socialite in the early 2000's was none other than Paris Hilton, heiress to the Hilton Hotel fortune and known party girl. Upon the release of 'One Night in Paris' in 2004, the huge media commotion catapulted Paris well into the limelight. The video was released by Paris' ex and co-star, Rick Salomon, who handed it over to a distribution company. Later claiming she was "out of it" and unaware of her surroundings, Paris also says she never made any money from its release.
We rate it: 2/10. It's good from the voyeuristic perving-on-a-celebrity aspect, but visually it's a bore. If Paris was off chops, that's probably not the appropriate time to video her in the act. Either way, she seems uninterested and is probably the inspiration for the term "starfish."
4. Dustin Diamond/Screech
Do you remember the popular TV series "Saved By The Bell"? Of course you do. You're probably still fond of the (arguably) best character on the show, Screech. He definitely had redeeming qualities, but his adult acting abilities were not among them. Dustin Diamond, the actor who played Screech did nobody any favours when he made a sex tape of himself and two women, presumably looking for some type of comeback or even the smallest bit of attention. It is uncomfortable to watch. If you can make it past him introducing himself as "The D-Man" who's "checkin' in with the Brotherhood of the Bros," you'll probably enjoy him making one of the girls smell his finger. Spoiler alert: it smells like his butt.
We rate it: 1/10. If the intention of this film was to show the world what an A-grade tool Dustin Diamond is, it certainly worked. The girls are attractive, but his narration is consistent and that voice of his is incredibly off-putting.
5. Hulk Hogan
If you ever get to hang out with Hulk Hogan, probably don't ask him about this sex tape. He's currently engaged in a lawsuit with news outlet Gawker who apparently received a DVD of Hogan banging his best friend's wife and naturally posted it online. Hogan (real name Terry Bollea) confirmed that his best friend, Bubba the Love Sponge (yep, that's his legal name) was aware and encouraged Hogan and his wife to get it on in the canopy bed. It's been revealed since it surfaced that the footage also contains a racist tirade from the Hulkster, which saw him ditched by WWE.
We rate it: Unrateable. At the time this was written, the Hulk Hogan sex tape is unable to be viewed anywhere (that I know of) and so all I have to go on is the very descriptive commentary written online as well as Hulk Hogan's physical appearance – which makes me unlikely to ever seek it out. I do hear good things about his penis, and apparently the two enjoy themselves and everybody gets off.
Can you think of any celebrity sex tapes you've enjoyed - or been scarred by? Tweet us @MyPlaymateAU and let us know!