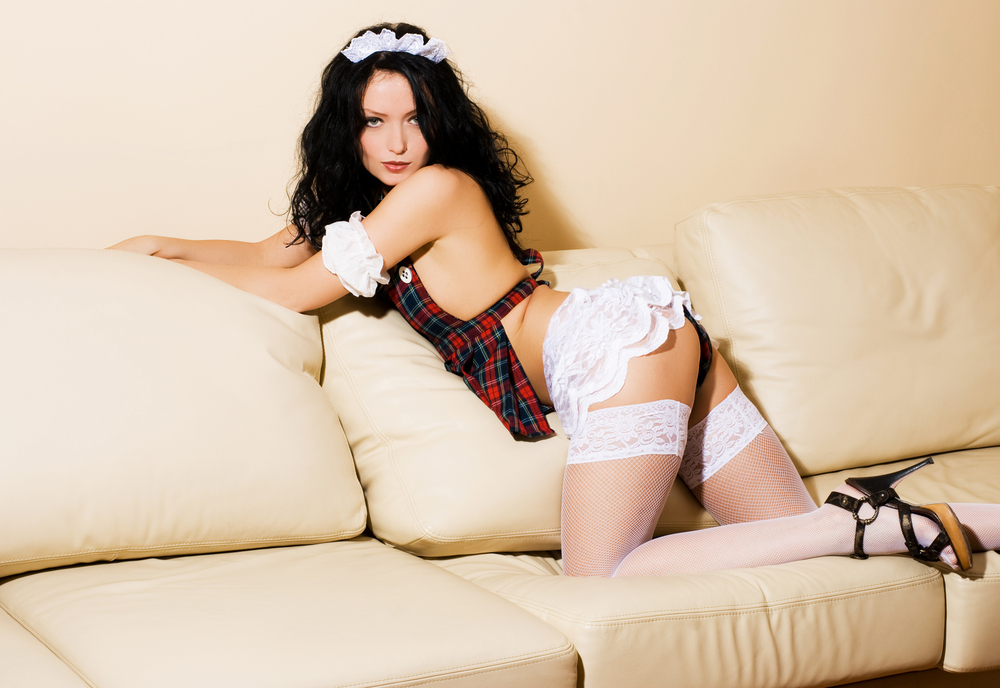 Getting involved in the wonderful world of sexy role play can be a great way to spice things up in the bedroom. Of course, you can experiment with adults-only dress ups at any stage in a relationship! Once you're immersed in living out your fantasies, you can go from naughty schoolgirl on a Wednesday night to a sexy Woolworths check out chick on Thursday nights. The possibilities are as far-reaching as your imagination.
Dressing up and looking the part is one of the crucial steps, but pulling off the persona is another key element of a successful role play. Your ability to stay in character can make or break the session. It's the difference between having regular sex while wearing a costume, and having sex in character while experiencing something new. If you're concerned about your commitment to the part, communicate this to your partner before you start. In addition to being a conscious effort to think and act like a different person, it can also be really daunting and embarrassing. Avoid putting yourself into an uncomfortable situation. Also, don't agree to play the role of anything you find degrading or inappropriate. It is all based in fantasy, but everyone has their own boundaries.
Role Play Ideas for Beginners
Are you ready to find your alter ego among these common fantasies? Here are a few of the most common suggestions for anyone looking to explore the joys of role play.
The Naughty Nurse
An oldie but a goodie, this can also be swapped for a doctor, dentist or even medical receptionist. As a nympho nurse, don't feel pressured to perform any actual medical procedures. This would include inserting an IV or catheter, taking a blood sample or measuring someone's blood pressure. Sexy nurse activities may involve giving a sensual sponge bath to your lover the patient. Perhaps their ailment can only be cured with mouth-to-breast (or mouth-to-genital) contact - or even a combination of both. When you're the nurse, you're a little in charge due to the implied fragile state of your patient. Get ready to pamper them with affection! Unless of course you're going for a mean nurse persona, in which case best of luck to you and your partner.
The Mischievous Maid
Getting naughty in a maid outfit makes the entire house your sexual playground, provided no one else is home to interrupt. You could be polishing the silverware or folding laundry when your boss enters. From here, you can choose to tease your partner by bending over and showing off some skin, while they know they're not able to touch. Remember that in this fantasy, the normal rules of sexual harassment in the workplace do not apply, so let yourselves get caught up in the sexual tension. If you're lucky, your sexy maid alter ego will spill over into your regular household chores and make even scrubbing the toilet that little bit more enjoyable.
The Teacher and Student
The misbehaved student is a classic fantasy, in which you can indulge in dominant and submissive roles. You can be a high schooler or in college, that's up to you – or you don't have to get that specific. With your partner as your teacher/professor/principal, channel the mindset of a perverted pupil that needs a little guidance. History has shown that a good spanking is the perfect way to rectify poor grades and overdue homework. The easy part about this particular role is that a pair of knee-high white socks and a short skirt evokes the image. There are many store-bought outfits if you haven't got your old uniform lying around.
Though these are but a few suggestions, any job or character that isn't you is grounds for a role play scenario. Strangers who meet at the bar? You can do it. Princess Leia and Han Solo? Absolutely do-able. While it's all too easy to explain the how and why of role play, you won't know how to make it work for you until you give it a try. Once you've become acquainted with the ins and outs, your imagination can run amok. Remember to always keep up communication before, during and after a session.