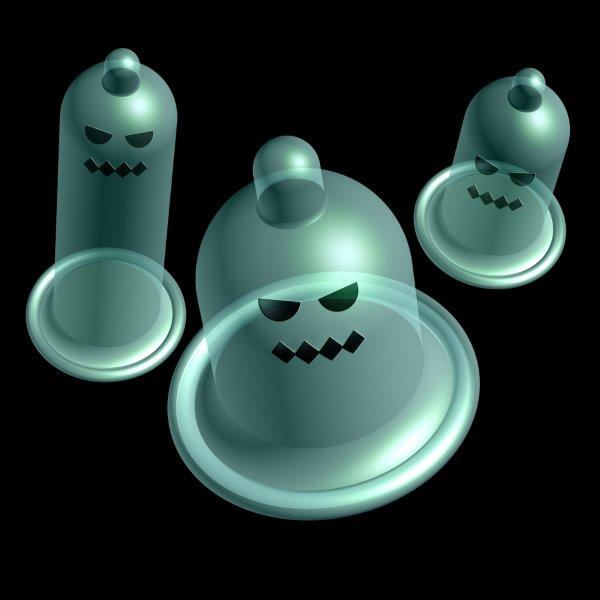 In this day and age, condoms have livened things up in the bedroom and made sex a more enhancing experience. And since people's creativity never stops, condom designs have become more artistic and innovative, yet strange and weird. From the inventive to the plainly absurd, here are twelve of the freakiest and most bizarre rubbers we have discovered…

1. Condometric
Let's be real, size really does matter so if you want to know exactly how you measure up, the condometric will be your handy guide. This transparent latex condom has a helpful ruler guide printed on its surface which tells you how long your doodle is when you get that freak on.

2. Whiskey Condoms
The whiskey condom gives a whole new meaning to the term whiskey dick. These prophylactics do not actually contain alcohol but are flavoured with authentic Scotch whiskey. It's perfect for partners who love a bit of Scotch.

3. Bacon Condoms
Because bacon makes everything taste better, it's only a matter of time until someone thinks of the bacon condom. The infamous bacon-flavoured condom is printed to look like fried bacon strips which smells and tastes like bacon. Just make sure your partner is not a vegetarian.

4. Pizza Condoms
Now, if there are bacon condoms, would pizza condoms be left behind? The pizza condoms are created by a Moscow-based industrial designer. These rubbers look like miniature pepperoni pizzas and are packaged in little miniature cardboard pizza boxes. Unfortunately, these condoms don't taste like pizza.

5. Origami Condoms
Origami condoms are accordion-shaped silicone rubbers intended to provide the wearer and the partner a pleasurable and safe sexual experience. Unlike the conventional rolled latex condoms wherein the sensation comes from outside, the origami condoms are designed for sensation from inside as it provides a reciprocating motion for the penis inside the internally lubricated condom.

6. Nicotine Condoms
Sex and smoking – if you love both, then the nicotine condoms are specially designed for you. These rubbers are infused with nicotine, using the similar technique when creating nicotine patches. When used, both partners feel the effects of the chemical after intercourse so both get their nic fits.

7. My Face Condoms
There's nothing more personalised than my face condoms. By simply sending your image, you can have your face printed in black and white, then stamped on the rubber, you can even add text. This one is probably the weirdest to me. I mean, would you really want your own face on a glove filled with man gravy?

8. Glow In the Dark Condoms
Have you always wanted to have a glow-in-the-dark "fleshlight"? To get these condoms glowing, simply hold up to the light in 30 seconds and get ready for an exciting and fun sexy time with your very own glow stick. Cool, isn't it?

9. Kama Sutra Condoms
Looking for exciting sex positions to try? The Kama Sutra latex condoms have all 64 sexual positions illustrated on the packaging. Definitely much easier than the book and you might even want to collect them all.

10. Pope Benedict XVI Condoms
In moments of weakness, someone has created the pope condoms. Only two things can happen here – either you abstain from sex or you defy your religion. Guilt or pleasure?

11. Tuxedo Condoms
Tuxedo condoms are the fashionable condoms for those distinguished black tie affairs. It's definitely a perfect addition to your formal wear outings. Look your best and still be dashing for those sexy midnight celebrations in bed.

12. Lollipop Condoms
Also known as sucker condoms, these rubber pops are fun on a stick. It's a creative and unique gift to give to a partner. Sweeten up your sex life with these candy-shaped gloves.

Most men don't like wearing condoms and some avoid using them during sex but it's a necessary part of any active sex life. Safe sex is an important responsibility for all of us, but the fun thing is that we can get a little weird with it, and sometimes weird can be a good thing. Having said that, I reckon it's time to go out and get some!